CND Shellac UV LED Gel Nail Polish Collection 7.3ml 0.25oz ~CHOOSE YOUR COLOR~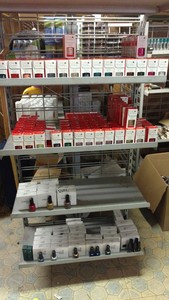 ---
CND Shellac UV LED Gel Nail Polish Collection 7.3ml 0.25oz ~CHOOSE YOUR COLOR~Description:
For Salon & Professional UseEssentials for a Perfect Salon Gel ManicureGel Polish applies like polish and cures in a UV lamp in 2 minutes.It stays on nails about 14 days with no chipping or peeling, and soaks completely off in only 10 - 15 minutes. How to use:    Trim and file the nails to the desired length and shape.    Push the cuticles back with an cuticle pusher.    Lightly buff the surface of each nail with a block buffer.    Cleanse the nails with a lint-free wipe OR using sterile alcohol wipes. It's important to ensure your nails are completely oil-free!    Apply a Base Coat to each of your nails.    Cure the Base Coat in your UV lamp.    Apply the first coat of Gel Polish color of your choice.    Cure the polish in your UV lamp.    Apply a second coat of Gel Polish color.    Cure the polish in your UV lamp.    Apply a thin coat of Top Coat to your nails.    Cure the top coat in your UV lamp.    Wipe your nails off with sterile alcohol wipes. This removes the tackiness.frostandjones is greatly dedicated to bringing you an unbelievable shopping experience from start to finish! 
We greatly value all of our customers. My goal is to provide you with a fast convenient and enjoyable shopping experience whether you are a MAN or a WOMAN for all your needs.
Everything listed at frostandjones is 100% authentic (unless noted or Estate sale finds). All items are brand new, in original packaging (unless otherwise noted);  Please note, that not all manufacturers use seals on their items or sell all products boxed or carded; however, each item is inspected and if we would be disappointed to receive it- we do not list it. Many items are samples and/or gifts with purchase and may not have bar codes, may have missing Seals/labels or misplaced/torn Seals/labels, may state "not for resale" Frostandjones is a third party re-seller of cosmetics, health and beauty care items, Auction Finds, Estate Sale Treasures and Fleamarket finds as well as closeouts and shelf pulls. Frostandjones is in no way affiliated with any of the manufacturers of the products that I sell- all Product Descriptions, Stock Photos, Trademarks and Patents mentioned are property of their respective companies.
Shipping Information
Purchases ship within 1 business day (excluding US holidays, Saturday and Sunday). Orders received Friday after 10am EST or Saturday and Sunday's are normally processed the next business day Which would be a Monday unless a recognized Holiday. When shipping is complete, you will receive an email (sent to the email address on file with ) to let you know it's on the way. The email will contain the tracking number and contact information should you have any questions.  
**The color samples/pictures shown for products should be used as a reference only in combination with the provided descriptions (when available). We do not warrant that the product descriptions, colors or other content available are complete, reliable, accurate, current, or error-free. Please note: although we have tried to accurately display and represent the colors of the products, the actual colors you see will depend on your monitor. We reserve the right to update/change the information in our listings at any time. We make every effort to ensure that the pictures and information are kept up to date. Manufacturers do update and change packaging, so the item(s) you receive may differ slightly from the items pictured. Frostandjones is not responsible for the performance of the item, color correctness, or the ingredients- it is the buyers responsibility to properly research the item(s) to ensure they are purchasing the item that best fulfills their beauty and personal needs. Please refer to the return policy for further details. By completing your purchase with us, you are acknowledging and complying with our stated return policy.