EGR Blank Restricting Plate Volvo Diesel 1.6 C30 V40 V50 & Ford Focus 1.6 TDCi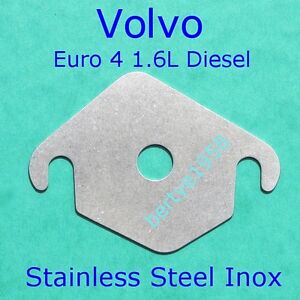 ---
 THIS FITS the valve pictured in 1.6L (1560cc) only in C30 S40 V50 S60 V60 V70 S80Thanks for looking.     This fit's the cars listed below. The restricting  plate is made from 1.5 laser cut Stainless Steel, and has a hole in to help keep the engine management light/warning off. Fully blocked will put the engine management warning on in the Volvo's 1.6L diesel.  It has been rumbled [ big noisy machine full of plastic stones ] to to make it smooth ( no sharp edges).  It fits between the cylinder head and the EGR valve. (See picture below). The holes are slotted so the EGR valve doesn't need to be remove, just loosened, and the plate can be slipped in and the bolts re-tightened. Plus, leave the EGR electrics plugged in, so as not to get the engine management light on.      It gives a cleaner pick up at lower revs because it stops exhaust gas being recycled especially if the EGR is dirty or jammed open. I can supply it without a hole in- item number 121026206109     I also have gaskets for this engine - Item number 121167469686     THIS FITS the valve pictured above in the 16 valve1.6 diesel (1560cc) only in C30 S40 V50 S60 V60 V70 S80. Will not fit the later Euro5 8 valve engine, which has a different EGR system. It has a water cooler EGR housing on the back of the engine.    Also fits the Euro 4 1.6L TDCi Ford  Focus C-Max but they don't normally have a problem being fully blocked, but this is an option if only wishing to restrict the EGR flow but improve the engine running.   Will not fit any other size Volvo engine, check out my other items for more Volvo's, or please ask  Any ? please ask. Benefits of blocking EGR   1.  Cleaner engine oil helping to give longer engine life.    2.  Turbo spooling up quicker, and at lower revs    3.  Helps prevents soot build up in intake manifold, and valve's, which will lower the power   4.  A smother drive, and usually better fuel economy   5.  Will help it pass the MOT, as it will lower the soot output (UK) ALWAYS POSTED ON DAY OF PAYMENT UP TO 6.00PM< LAST POST  11.00 AM SATURDAY

For 24express delivery- must be paid before 3.00pm, and is working days only, so Fridays sending will arrive Monday

PLEASE NOTE THAT THIS IS FOR DIESELs    NOT PETROL ENGINE'S.All plates are designed and researched by me in house over many years. I do not buy or have ever brought from other seller (most sellers are just engineering firms that have brought from each other-along with the repeated mistakes or Chinese resellers), and have no idea about car engines, fault codes, and what can be causing them. I have been a mechanic for many years, and my number 4 son is also a trained mechanic of some years.