GELISH Harmony Soak Off UV LED Gel Nail Polish Foundation Base & Top Coat 15 mL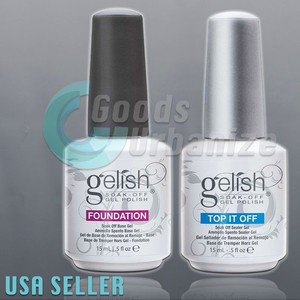 ---
Option 1 includes: 1 Gelish Foundation Gel 15 mL bottleOption 2 includes: 1 Gelish Top It Off 15 mL bottleOption 3 includes: 1 Foundation Gel 15 mL bottle & 1 Top It Off 15 mL bottleOption 4 includes: 2 Foundation Gel 15 mL bottle & 2 Top It Off 15 mL bottle  The Foundation Soak Off Base Gel creates the adhesive bond between the nail plate and gel products while not damaging the nail plate. It works as a base for Gelish Structure Gel or Gelish Soak-Off Gel Polish. Cures in 5 seconds in LED 18G light, 10 seconds in LED light, and 1 minute in UV light. Gelish Dynamic Soak Off Gel Nail Polish - Foundation Base and Top Sealer

Option 1 includes: 1 Gelish Foundation Gel 15 mL bottle

Option 2 includes: 1 Gelish Top It Off 15 mL bottle

Option 3 includes: 1 Foundation Gel 15 mL bottle & 1 Top It Off 15 mL bottle

Option 4 includes: 2 Foundation Gel 15 mL bottle & 2 Top It Off 15 mL bottle

 

 

The Foundation Soak Off Base Gel creates the adhesive bond between the nail plate and gel products while not damaging the nail plate.

It works as a base for Gelish Structure Gel or Gelish Soak-Off Gel Polish. Cures in 5 seconds in LED 18G light, 10 seconds in LED light, and 1 minute in UV light.

The Top It Off Soak Off Sealer Gel seals your Gelis Soak-Off Gel Polish to a high shine finish that will not dull, chip, or peel. Removes with Gelish Soak-Off Remover. Cures in 30 seconds in LED light; 2 minutes in UV Light.

 

Gelis Soak-Off Gel Polish applies like polish and cures in a LED lamp in 30 seconds, or 2 minutes in traditional UV lamps.

Gelish stays on nails for up to 3 weeks with no chipping or peeling, and soaks completely off in only 10 - 15 minutes. 

Requires use of Gelish LED Drying Curing Lamp (not included)!

Note: Due to lighting and computer monitor display settings, the actual color may slightly differ from the pictures.

Gelish Dynamic Duo Package Kit includes a foundation gel bottle and top coat bottle Requires use of Gelish LED drying curing lamp Lasts up to 21 days with perfect shine Uses Gelish patented technology for easy soak off Size per bottle: 15 mL Cures in 30 seconds under LED lamp (2 minutes under UV lamp) Stays on for 3 weeks with no chipping Soaks off in 10-15 minutes Payment

- Due to new policy, PayPal and Credit Card are accepted.

- All payment are expected within 7 days after the last winning auction is closed. We reserve the right to file Non-Paying Bidder Alert if the payment is not received 7 days after the auction ended

Shipping

 
| | |
| --- | --- |
| Carrier | UPS/USPS |
| Domestic Shipping to 48 States | FREE SHIPPING |
| Transit Day | 3-5 Business Day |
| International | Not Supported |
| Sales Tax | 9% for California in-state buyers |
-Handling fee are included already in the shipping price.

-We do not accept COD or Local pick up. Most of our item are ship with UPS or smaller size items are ship with USPS priority mail or first class mail.

-Shipping Upgrade is not available.

Returns

- Return is accepted within 30 days counting from the 1st day the order is received.

- The item must be return in brand New condition.

- Buyer pays return shipping.

- For more details regarding our return policy, please contact our customer service team for assistance.

Customer Services

-If you have any questions on the item before or after winning the auction, please do not hesitate to contact our customer service support team by clicking "Ask a question" in "Questions and answers about this item" section below item description. Let us fix the problem and make sure you are satisfy.

 

Your Wonderful Shopping Experience is Our Pleasesure. 

Gelish Dynamic Soak Off Gel Nail Polish - Foundation Base and Top Sealer

Option 1 Includes: 1 Gelish Foundation Gel 15 mL bottle

Option 2 Includes: 1 Gelish Top It Off 15 mL bottle

Option 3 Includes: 1 Foundation Gel 15 mL bottle & 1 Top It Off 15 mL bottle         

- Buy One, Get One 20% OFF           

- Add 2 to Cart and Checkout together

 

The Foundation Soak Off Base Gel creates the adhesive bond between the nail plate and gel products while not damaging the nail plate.

It works as a base for Gelish Structure Gel or Gelish Soak-Off Gel Polish. Cures in 5 seconds in LED 18G light, 10 seconds in LED light, and 1 minute in UV light.

The Top It Off Soak Off Sealer Gel seals your Gelis Soak-Off Gel Polish to a high shine finish that will not dull, chip, or peel. Removes with Gelish Soak-Off Remover. Cures in 30 seconds in LED light; 2 minutes in UV Light.

 

Gelis Soak-Off Gel Polish applies like polish and cures in a LED lamp in 30 seconds, or 2 minutes in traditional UV lamps.

Gelish stays on nails for up to 3 weeks with no chipping or peeling, and soaks completely off in only 10 - 15 minutes. 

Requires use of LED/UV Drying Curing Lamp (not included)!

Note: Due to lighting and computer monitor display settings, the actual color may slightly differ from the pictures.

Gelish Dynamic Duo Package Kit includes a foundation gel bottle and top coat bottle Requires use of Gelish LED drying curing lamp Lasts up to 21 days with perfect shine Uses Gelish patented technology for easy soak off Size per bottle: 15 mL Cures in 30 seconds under LED lamp (2 minutes under UV lamp) Stays on for 3 weeks with no chipping Soaks off in 10-15 minutes

- Due to new policy, PayPal and Credit Card are accepted.

- All payment are expected within 7 days after the last winning auction is closed. We reserve the right to file Non-Paying Bidder Alert if the payment is not received 7 days after the auction ended
| | |
| --- | --- |
| Carrier | UPS/USPS |
| Domestic Shipping to 48 States | FREE SHIPPING |
| Transit Day | 3-5 Business Day |
| International | Not Supported |
| Sales Tax | 9% for California in-state buyers |
-Handling fee are included already in the shipping price.
-We do not accept COD or Local pick up. Most of our item are ship with UPS or smaller size items are ship with USPS priority mail or first class mail.
-Shipping Upgrade is not available.
- Return is accepted within 30 days counting from the 1st day the order is received.
- The item must be return in brand New condition.
- Buyer pays return shipping.
- For more details regarding our return policy, please contact our customer service team for assistance.
-If you have any questions on the item before or after winning the auction, please do not hesitate to contact our customer service support team by clicking "Ask a question" in "Questions and answers about this item" section below item description. Let us fix the problem and make sure you are satisfy.
Your Wonderful Shopping Experience is Our Pleasesure. 
Powered by SoldEazy