Medela In Style Advanced Double Breast Pump w/ On-The-Go-Tote NEW SEALED #940 611434120341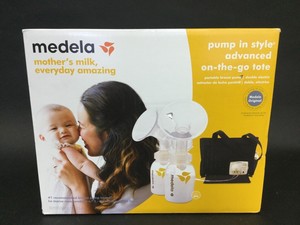 ---
Medela In Style Advanced Double Breast Pump                                                                           About the Product  This is a new item in NEW condition. It is in the original box, still factory sealed. The box has wear and tear from shipping and handling.  There may be an old shipping label on the box.                Daily use, double-electric breast pumpDesigned for moms who pump several times a dayBuilt in bottle holders to help prevent spillsBattery pack lets you pump anywhere, anytime (8 AA batteries not included)Removable cooler bag with contoured ice pack holds four breast milk bottles
From the Manufacturer
Pump In Style Advanced Breast Pump with On-the-go Tote!Daily use, double-electric breastpump: Designed                                                                         for moms who pump several times a day

Pump In Style Advanced is a daily use breast pump designed for moms who pump several times a day and offer portable convenience for discreet pumping anywhere.

2-Phase Expression technology with one-touch let-down button produces more milk in less time when pumping at Maximum Comfort Vacuum in the expression phaseStylish microfiber bag with built-in pump holds everything you need to pumpBattery pack lets you pump anywhere, anytime. (8 AA batteries not included)Single knob speed/vacuum adjustments for comfortable pump settingsRemovable cooler bag with contoured ice pack holds 4 breast milk bottles and ice pack to keep breast milk bottles cool
Stylish microfiber bag

On-the-go Tote with built-in pump holds everything you need to pump. Also features built-in bottle holders to help prevent spills and a tubing storage pocket to keep organized between pumping sessions.

Double pumping kit

Double pumping kit with 24mm PersonalFit breast shields (additional sizes sold separately) for comfortable and efficient pumping.

Cooler System

Removable cooler bag, contoured ice pack, (4) breast milk bottles with lids, everything you need for on-the-go pumping.

Pump In Style Advanced breast pumps

Offer portable convenience for discreet pumping anywhere.
What's in the Box 

(1) microfiber bag; (4) 5oz/150ml breast milk bottles & lids; (1) cooler bag and ice pack; (1) double pumping kit with 24mm breast shields; (1) 9-Volt AC adapter; (1) battery pack (8AA batteries not included).

              

                             
Did you know?

Medela breastfeeding essentials are FSA eligible.

Safe for you and your baby

All parts that touch breastmilk are made without BPA.
Product Description
Style: On the Go Tote                        Pump in style advanced is a daily use breast pump designed for moms who pump several times a day. Includes tote bag with integrated motor unit, AC adaptor, battery pack, insulated cooler bag and ice pack, 5 ounce breast milk bottles, 24 mm breast shields, PersonalFit connectors, valves, tubing and instructions.