New Medela Backpack bag Travel Double Pump In Style Advanced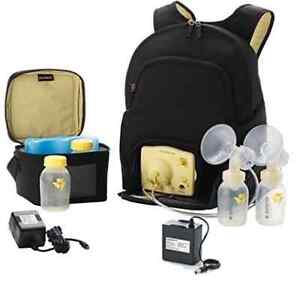 ---
Medela Pump in Style Advanced Backpack Double Breast Pump #57062 

Description:Pump in Style Advanced Breast Pump with BackpackDaily use, double-electric breastpump: Designed for moms who pump several times a dayPump In Style Advanced is a daily use breast pump designed for moms who pump several times a day and offer portable convenience for discreet pumping anywhere.2-Phase Expression technology with one-touch let-down button produces more milk in less time when pumping at Maximum Comfort Vacuum in the expression phaseStylish microfiber bag with built-in pump holds everything you need to pumpBattery pack lets you pump anywhere, anytime. (8 AA batteries not included)Single knob speed/vacuum adjustments for comfortable pump settingsRemovable cooler bag with contoured ice pack holds 4 breast milk bottles and ice pack to keep breast milk bottles cool.

without original box .All parts are new and sealed.  the pump never used and is warranty 1 year,the backpack has some superficial marks that do not impede the operation if you have any problem with the pump, we could exchange it to another. 

With extras

2 disposable nursing bra pads 1 micro clean bag 2 breastpump 24mm(maymom) 2 valves and membranes 2 tubing 4 bottles Ice pack with ice cool 1 battery pack and AC adapter to 110v.