Rainbow Embroidered Iron / Sew On Patch Badge Applique Motif 8438477665774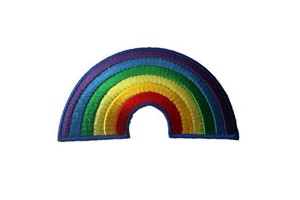 ---
Shop Menu Home About Us Delivery Returns and Refunds Payments Contact Us Shop Main Categories Arts & Crafts Back to School Clothing DIY Garden Homeware Kitchen/Cooking Toys Halloween Christmas See all items Logo top Home| About Us| Delivery| Returns and Refunds| Payments| Contact Us
Shop by brands:
Categories
Other Arts & Crafts Baby Shower Back to School Batteries Cleaning Products Clothing Disposables DIY Garden Grocery Hen Party Homeware Iron On Patches Kitchen/Cooking Packaging Pest Control Summer Taylor Eye Witness Toys Winter Wall Stickers Valentines Easter Halloween Christmas Minky Brite Clothes Pegs (Pack of 36)

£4.95

View item MINKY 20 Meter Green Golden Steel Core Indoor Outdoor Clothes Washing Line

£5.99

View item Minky 30m Retractable Reel Clothes Washing Line.

£16.99

View item Minky Brite Clothes Pegs (2 x pack of 36)

£7.89

View item Minky 30m Retractable Reel Clothes Washing Line

£17.99

View item Thermos Insulated Cooler Cool Bag Cool Freeze Board 200G 400G

£2.99

View item
Rainbow Embroidered Iron / Sew On Patch Badge Applique Motif
Availability: In stock £2.99 Description Terms Shipping Payment Returns Brand newHigh detailed qualityEmbroideredApprox patch size - 5.1cm x 7.6cmIdeal for garments, bags, caps and hatsIron on instructions includedWe take pride in all our products we sell and do our best to provide you with a second to none service. All our patches are dispatched in good quality jiffy bags to ensure they reach you in perfect condition. Please note many sellers are selling cheap versions with poor workmanship, do not waste your money by buying from such sellers.Thank you for looking!Check out our shop we also stock a wide range of patches. Description Terms Shipping Payment Returns TermsCustomer Satisfaction & Zero Defects are Our Goals!!!We are honest traders and we'll do all we can to ensure that you are happy with the item/s purchased. We try to ensure that all items we sell are described accurately and honestly.We do however security mark certain items to prevent fraud as people often purchase an item and try to return faulty ones. Any bidder/buyer found to be exploiting this will be reported as this is a criminal offence of deception. However we do accept that most people are honest and if an item we sell you is found to be faulty then please return it for a full refund or replacement.We are contactable via email and will do our upmost to respond within 2 working days.Please leave us positive feedback once you are satisfied with your purchase, we will do the same in return. Description Terms Shipping Payment Returns ShippingYour item/s will in the post within 2 working days on receipt of cleared payment. We will also try to post your item in the afternoon if you have purchased an item in the morning so that you get it as soon as possible.The majority of our orders are sent via Royal MailYou will be notified via an automated response informing you that your item/s have been dispatched.We post throughout Scottish Highlands, Northern Ireland, Republic of Ireland, Europe. Postage  can take an extra day or two and are subject to an additional 'Excess' delivery charge, you will be contacted prior to dispatch to advise you of this charge.Goods will be dispatched to the postal address you have given in your order. Please note we will not dispatch to PO Box addresses. We will make the necessary arrangements for dispatching and delivering the goods to you. Should there be no-one at the address to take delivery, our courier will leave a card, giving full instructions for you to re-arrange a more convenient time of delivery or pick up in person. Description Terms Shipping Payment Returns PaymentThe preferred payment method is PayPal, but if you have a reason to pay by other means then please email us to see if this type of payment will be acceptable.We will do all we can to ensure you are able to pay in a way that suits you.Payment must be recieved within 3 days of purchase date to avoid the possibility of receiving a strike on your account. We are happy to assist so please get in touch if you have payment issues.  Description Terms Shipping Payment Returns ReturnsIf, for any reason, you want to cancel your order with us, you are able to do so at any time before the goods are dispatched by sending us a message.Once your goods have been dispatched, you are still able to cancel your order but we reserve the right to apply a cancellation fee of 10% of the final sale price to cover our administration costs.Goods must be returned in an unused and if possible unopened condition within 7 days. We would advise that you enclose a cover note on the outside of the package including your order details and reason for return to ensure there are no delays with refunding your payment.When returning goods we would always recommend using a 'signed for' delivery service to ensure the goods arrive back safely. When the goods are received by us, we shall process the agreed refund amount within 5 days. All products returned will be inspected to ensure they are returned in brand new condition and re-saleable condition.Please be aware that we will only issue a full refund for goods that have been received with a fault or for situations where the wrong goods have been received.We will deduct a minimum of 10% from any refund for orders that are returned to us where you have changed your mind to cover the cost of delivering the original order.Return address:Safe Store, Unit 1032, 2 Garland Rd, Stanmore, Middx, HA7 1NRFaulty or damaged goods: In the unusual event that you should receive goods from us that are damaged or defective, you must notify us within 24 hours.If a product arrives damaged or faulty, Make It Magical reserves the right to acquire photographic evidence before progressing to resolve the problem.   Where deemed possible we will replace any faulty/damaged components rather than replacing the whole item.   We will always ensure that the product received is suitable for use and of satisfactory condition, and will endeavour to solve any problem as efficiently as possible.   Failure to supply photographic evidence by e-mail or post may invalidate your transaction.
YOU MIGHT BE INTERESTED IN:
Peace Love Hippie Music Guitar Embroidered Iron / Sew On Patch Badge Motif

£3.99

View item Pink Baby Owl Embroidered Embroidery Iron / Sew On Patch Badge Applique Motif

£3.99

View item Green Butterfly Embroidered Embroidery Iron / Sew On Patch Badge Motif

£2.99

View item Black Salamander Lizard Embroidered Embroidery Iron / Sew On Patch Badge Motif

£3.99

View item Route 66 Gold Black Embroidered Iron / Sew On Patch Badge Applique Motif

£3.99

View item Candy Sugar Skull Tatoo Punk Biker Embroidered Iron / Sew On Patch Badge Motif

£3.99

View item KEEP IN TOUCH Receive our email newsletters about new items and special promotions! Sign up now! About We are a UK based VAT Registered Company established in 2005. We source quality products throughout the world including UK manufacturers and offer you the lowest prices possible, often cheaper than buying from the high street. We consistently provide a high level of customer service. You can see from our feedbacks that we are honest and reliable sellers so buy with confidence. We guarantee you a pleasant and satisfying shopping experience. Customer Services Home About Us Delivery Returns & Refunds Payments Contact Us KEEP IN TOUCH NEWSLETTER SIGN UP Receive our email newsletters about new items and special promotions! Sign up now! Company Registration No. - 07623679    VAT No. - GB195739159