Retail Pack of 2 Tubing for MEDELA Lactina , Symphony & old Pump in Style 738435627072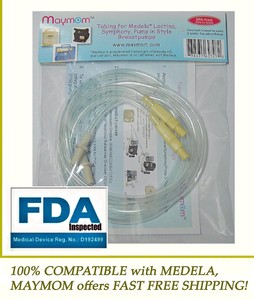 ---
Include 1 retail pack of 2 BPA-free clear plastic tubings (42 in) to replace parts #8007213, #8007214, #8007179 and #807180 made for MEDELA "Lactina" and "Symphony" breastpumps, as well as "Pump In Style Advance" breastpump sold BEFORE July, 2006. Please match your breastpump with the compatible models listed below before making a purchase. For a larger view, please click on the image that may match your model. This part will not fit the "Pump In Style Advanced" sold AFTER July, 2006 and discontinued "Pump In Style" models. Please click HERE to reach the correct tubing for those models. We guarantee that our parts will form the same vacuum suctioning as Medela parts. The required luer-slip adapters to connect are pre-installed on both ends of the tubing. Some models may require cutting of the adapter to connect. Please reference the photos in our listing to connect. The material used in our products is fully complied with USA FDA standards and EU Commission Regulation (EU) No 10/2011 standards for plastic materials that intended to come into contact with food. Every batch is tested for quality and safety. Come in a retail package sealed by the manufacturer. If you also need Medela replacement valves and membranes, we recommend to click HERE to see our economical package. To enlarge, please click on that image. Click HERE to See Our Other Listings at .

For California Residents only (California Proposition 65 Label):Warning: The tubing in this product contains chemicals known to the State of California to cause cancer and birth defects or other reproductive harm.See maymom.com/dehp for details.

THANK YOU so much for visiting us. We look forward to seeing you very soon.

Copyright © MAYMOM ®

MAYMOM® is a brand you can afford and trust. → FDA-registered and FDA-inspected! → 1 day handling time and FREE fast shipping within USA! → Satisfaction guaranteed!